For weeks now I have read many of the blog posts from the
Meet Me on Monday blog hop
hosted by Java at
Never Growing Old
. I never have time on Mondays to sit down and participate but this week I came home early with a Migraine and I am relaxing here in my cozy bed with my laptop so I thought,
"What the heck, it is her 22nd Edition, I think it's time I joined in the fun."
Every Sunday Java posts five
get to know you
questions that you can copy and paste into your own Monday post and we can all learn a little more about each and every one of us!!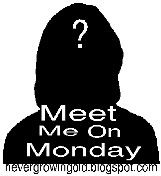 Questions:
1. Do you eat Sushi?
2. What kind of bath soap do you use?
3. How often do you talk to your Mom?
4. What TV shows do you watch on a regular basis?
5. Did you start Christmas shopping yet?
---------------------------------------------------------------
Here are My Answers!
Oh...this is me-->
1. Do you eat Sushi?
Yuck, NO WAY! Like Java, I don't even like to
watch
someone eat it!
2. What kind of bath soap do you use?
I use Suave body wash with exfoliating beads. My skin is so sensitive that I can't hardly use anything to clean my face that doesn't break me out in a red rash. I have tried lots of expensive so-called hypoallergenic cleansers but they irritate my skin too. Then I discovered this cheap body wash at Sam's Club that did not irritate my skin at all, so I buy it in bulk now, lol.
3. How often do talk to your mom?
My mother and I do not talk at all. We have had a strained relationship since my birth and a few years ago I just stopped even trying. I have sort of a surrogate mother who I spend time with in a mother-daughter way, if fills the need for both of us since she never had a daughter herself.
4. What TV Show do you watch on a regular basis?
I don't have TV service (by choice), however I download The Daily Show with Jon Stewart because it is the only program I could not do without. Many nights a week the hubs and I set up the laptop on the coffee table and watch Jon Stewart while we eat dinner.
5. Did you start your Christmas Shopping yet?
Yes and No. I have
thought
about what I will get for my daughter and son-in-law, but I have not actually bought anything yet. My grandkids are a different story. I am always buying things for them so I have a nice stock pile of things that would make great Christmas or Birthday gifts. I will be going over their
Wish List
on our Thanksgiving visit so that is when the real shopping will begin. The hubs and I don't buy gifts for each other. We plan little romantic getaways, then after the Holiday is over we sneak off together.
Now I am going to go read everyone else's answers...Nice to Meet Ya!
This is a blog hop so if you want to put the linky on your post just click the "Get the Code" at the bottom of the linky.
Your link MUST include your Meet Me On Monday post or it will be deleted!
Also PLEASE either put the "Meet Me On Monday" button in your post or link your post back to Never Growing Old. Java has found several people just posting the questions and answers in their post and no one knows that they actually belong to a meme and linky!